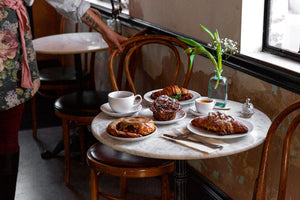 European Inspired Café
Featuring an array of Traditional, Gluten Free and Vegan pastries & Sandwiches with Excellent Coffee and Non Alcoholic beverages!
Join us every Friday & Saturday evening for Natural Wines, Craft Cocktails and tasty specials!
SEPTEMBER SEASONAL HOURS
Friday & Saturday: 8am-9pm.
Sunday & Monday: 8am-2pm.
Tuesday, Wednesday, Thursday: CLOSED
See our calendar for upcoming events!
Follow us on Instagram @cafedeschutes
COFFEE | BAKED GOODS | SANDWICHES | SNACKS